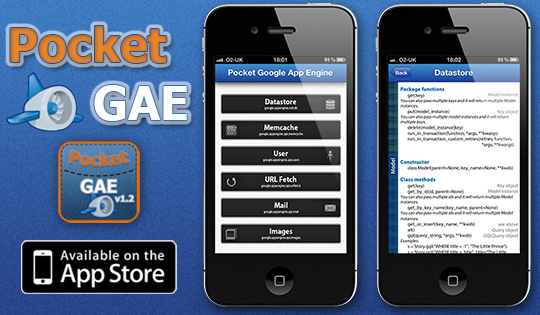 Google App Engine (often referred to as GAE) is a platform as a service cloud computing platform for developing and hosting web applications in Google-managed data centers.
Pocket Google App Engine for python aims to provide a quick reference (cheat sheet) for web app developers. It covers topics you have already learned but need a few reminders or guidance on.
*** FEATURES ***
★ Reference based on the latest version of GAE 1.2
★ Covers options for:
✓ Datastore (Model, Property, Query, Key, GQL)
✓ Memcache
✓ User
✓ URL Fetch
✓ Mail
✓ Images
★ No internet connection necessary! Works offline
★ Compatible with Retina display
After the success of the first application submitted to the Apple App Store, Pocket Django, I have continued the "Pocket" app series and developed Pocket GAE. The application aims to help Google App Engine developers that build web applications on the same scalable systems that power Google applications.